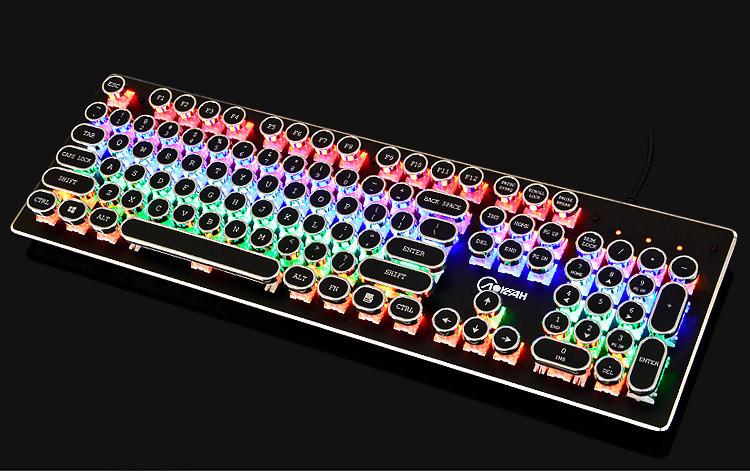 Vintage Inspired
The OGG Typewriter Mechanical Gaming Keyboard features a stunning & unique look, adjustable back-lighting to enhance your gaming experience, a sleek anodized aluminum top panel that improves durability, a resonance-free bottom enclosure, ..all which make the gaming experience more amazing. Read more about it below!
This OGG Gaming keyboard is a typewriter inspired mechanical keyboard. Combining retro aesthetics with contemporary state-of-the-art functionalities.
CURATED DESIGN
Purposefully crafted Curvilinear chrome trim, high contrast glossy surface, tubular LED lights, each carefully crafted to capture our modern iteration of vintage. Handcrafted round key caps with clicky mechanical switches combine to bring you reminiscence of old-school typewriters but with the precision of modern mechanical keyboards.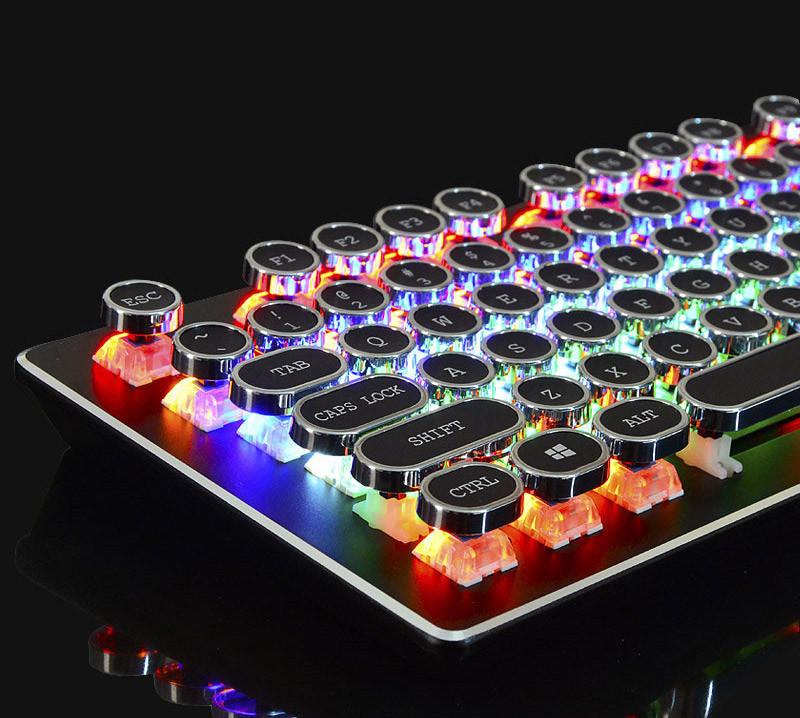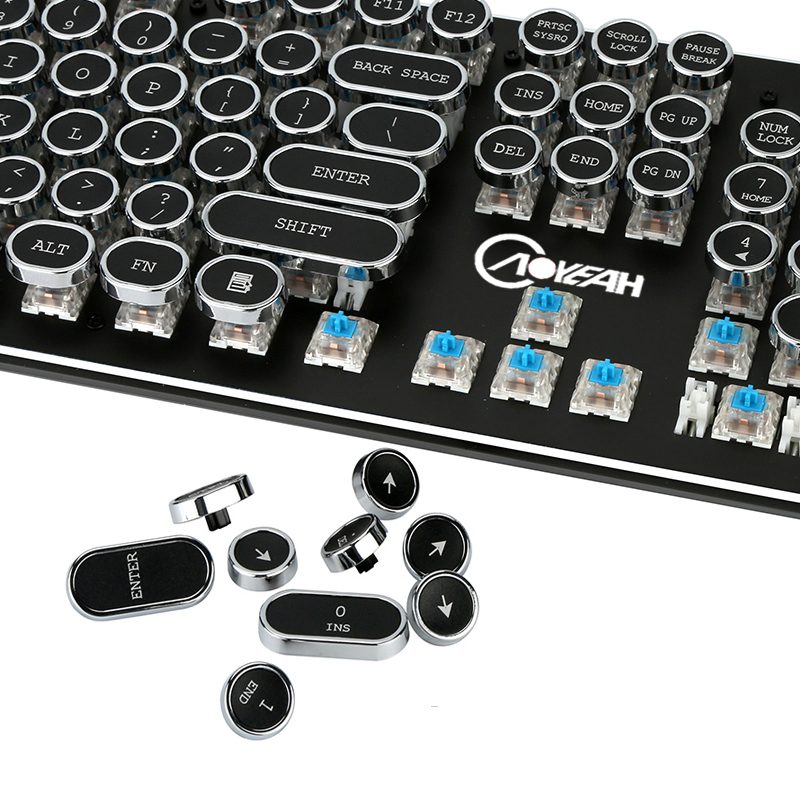 REMINISCENT OF TYPEWRITERS
Tactile & Clicky Mechanical keys. Experience precise travel distance and unique clicky tactile feel with every key. No more ghosting or conflicts simultaneously key presses. Type with confidence and accuracy with every stroke, every time. Trust us, the feeling of typing on this keyboard is unreal.
BLUE MECHANICAL SWITCHES
Built to outlast even the most intense marathon gaming sessions, this OGG Typewriter gaming keyboard is equipped with blue mechanical key switches that allow for lightning-fast precision when the stakes are high. Our mechanical keyboards have keys that deliver a distinctive tactile feedback to your fingertips in the form of pronounced taps. Just like a typewriter where each key pressed seems to bounce back up at you… Well that's exactly what a mechanical keyboard feels like too.
Gamers enjoy this kind of keyboard because it gives them a feeling of assurance that their commands are being executed exactly. Each key also requires less force to actuate (45-50g) for blazing fast in-game responsiveness.  (PS. Not a gamer? No worries, it's just as enjoyable to type on as well!)
Kaihua Factory made Blue Mechanical Keys (70 million click life time). One of the highest quality made keys in the world.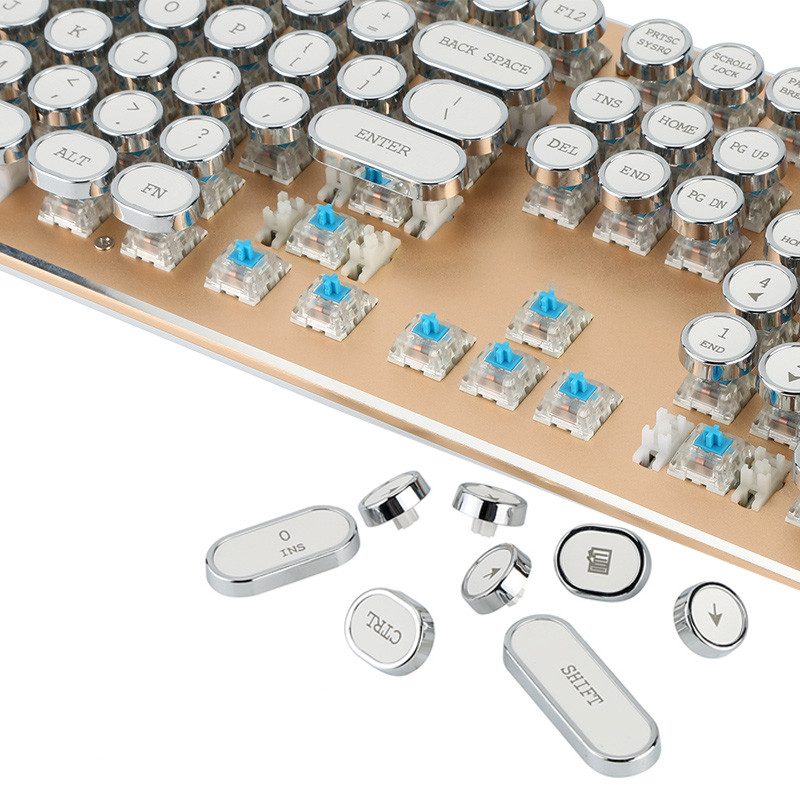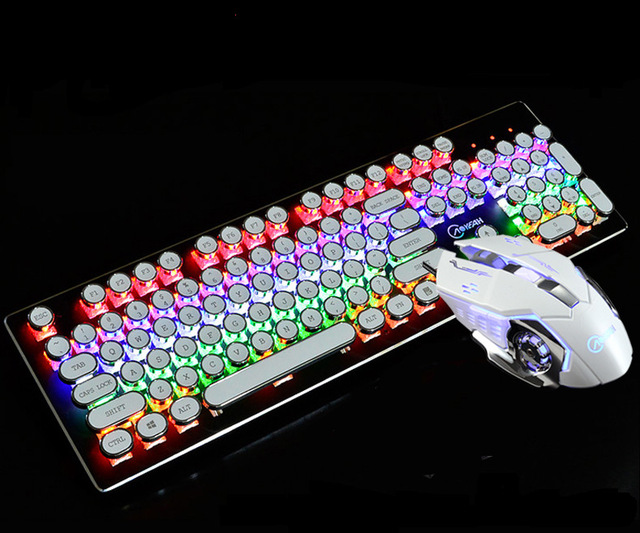 BRILLIANT BACK-LIGHTING MODES
Chroma Luminous Light – Enhance your gaming experience. Choose from 9 amazing LED colour modes. Don't want the lights on? No problem you can simply switch them off if you wish! The lights are just another special bonus feature which come with this amazing keyboard.
70M LONG-LASTING SWITCHES:

Our Typewriter Mechanical gaming switches have a 70-million-click lifetime ensuring they stay quick & responsive.
ALUMINUM METAL CONSTRUCTION
The OGG Typewriter Mechanical Gaming Keyboard is housed entirely in an aluminum-metal alloy for that luxurious blend of the past and future.
KEEP IT CLEAN 
Dust resistance – Unique Key socket design prevents dust and liquid from entering the key switches.
PRODUCTIVITY BOOSTER 
Shortcut & hotkeys – easy access to productivity, internet and multimedia functions.