Introducing the Brand New OGG | Anti-Ghosting Typewriter Mechanical Gaming Keyboard 2018 v3!
This inspired Typewriter design embraces that retro feeling, while adopting the most up-to-date technology.
Outfitted with handcrafted key caps, this retro-style keyboard looks as good in the office as it does in the game room. It has Blue clicky mechanical keys, each press gives you noticeable tactile audio feedback, so you know exactly what you're pressing each and every time. With 100% anti-ghosting technology key-caps, each key registers individually no matter how fast you are.
Brilliant LED back-lighting provides you with a euphoric gaming experience. Choose from over 12 incredible color lighting effect modes, or customize your own color combos.
Vintage Inspired
The OGG Typewriter Mechanical Gaming Keyboard features a stunning & unique look, adjustable back-lighting to enhance your gaming experience, a sleek anodized aluminum top panel that improves durability, a resonance-free bottom enclosure, ..all which make the gaming experience more amazing. Read more about it below!
This OGG Gaming keyboard is a typewriter inspired mechanical keyboard. Combining retro aesthetics with contemporary state-of-the-art functionalities.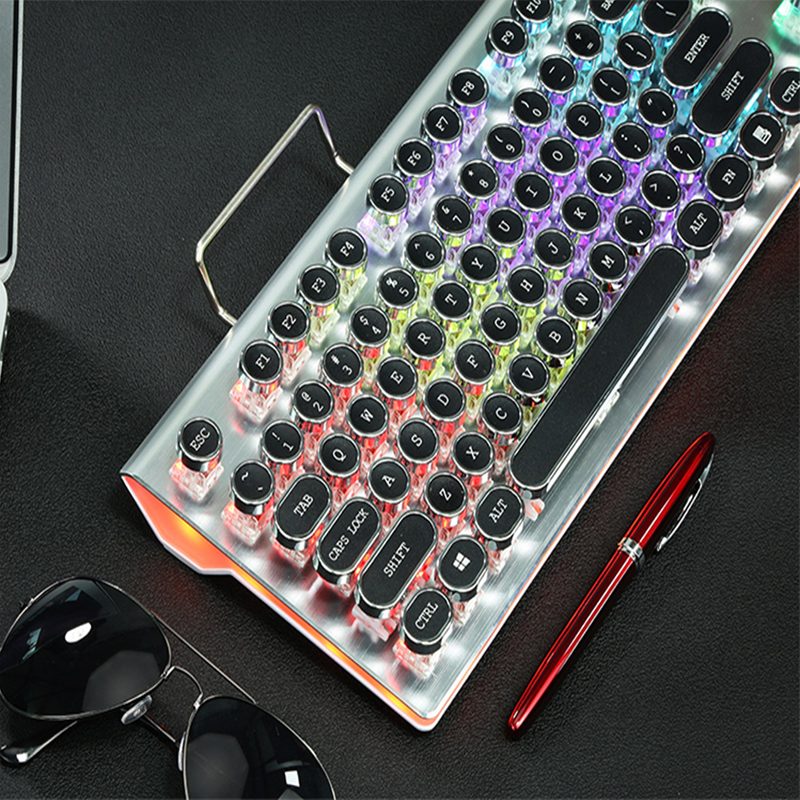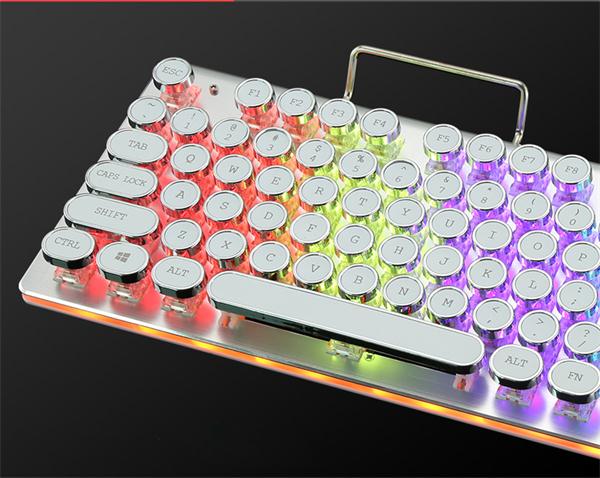 CURATED DESIGN
Purposefully crafted Curvilinear chrome trim, high contrast glossy surface, tubular LED lights, each carefully crafted to capture our modern iteration of vintage. Handcrafted round key caps with clicky mechanical switches combine to bring you reminiscence of old-school typewriters but with the precision of modern mechanical keyboards.
REMINISCENT OF TYPEWRITERS
Tactile & Clicky Mechanical keys. Experience precise travel distance and unique clicky tactile feel with every key. No more ghosting or conflicts simultaneously key presses. Type with confidence and accuracy with every stroke, every time. Trust us, the feeling of typing on this keyboard is unreal.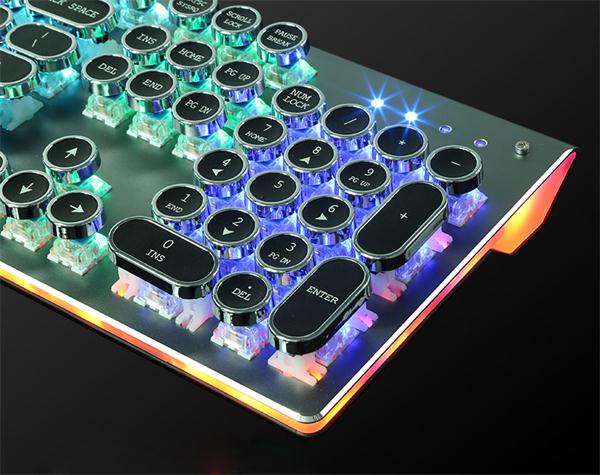 Phone Stand +Detachable Wrist Rest
Detachable Wrist Rest for Extended Gaming Comfort:
This wrist rest features ergonomics that ensure that no matter how intense your gaming marathons are, you're always comfortable.
Phone stand:
Conveniently place your smart phone on the OGG | Anti-Ghosting Typewriter Mechanical Gaming Keyboard 2018's phone stand for easy access.