Vintage Inspired
The OGG | Retro-Z Typewriter Mechanical Gaming Keyboard represents a powerful combination of technological innovation, robustness and illumination. The switches, designed from the ground up, were built for gamers & typists craving a key stroke that was swift, clicky, and precise while still being tactile. A toughened metal plate strengthens the Retro-Z and protects it from knocks and falls, while keys are optimized to resist dust. The powerful RGB lighting engine is brought to life with long-life LEDs that illuminate beautifully underneath & around the keycaps.
Premium Quality
Meticulously crafted with rigorously selected material and attention to detail, the OGG | Retro-Z Typewriter Mechanical Gaming Keyboard is one of the most sophisticated yet luxurious mechanical keyboards today. A reinforcing anodized aluminum top plate bolsters the Retro-Z, strengthening its structural integrity and shielding it from wear and tear. The palm rest and the flat, low-profile design of the keyboard significantly improves the ergonomics, making it comfortable to use even after long periods of typing or game time.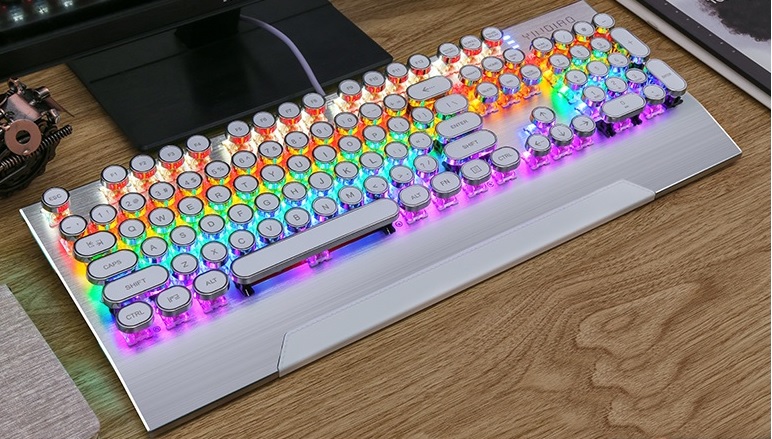 REMINISCENT OF TYPEWRITERS
The OGG | Retro-Z Typewriter Mechanical Gaming Keyboard uses premium "Blue" mechanical key switches to offer precise travel distance, tactile feedback, and a pleasant audible click sound which makes it very satisfying to type on. Each circular typewriter-style key cap is handcrafted to perfection.
BLUE MECHANICAL SWITCHES
Built to outlast even the most intense marathon gaming sessions, this OGG Retro Z Typewriter gaming keyboard is equipped with blue mechanical key switches that allow for lightning-fast precision when the stakes are high. Our mechanical keyboards have keys that deliver a distinctive tactile feedback to your fingertips in the form of pronounced taps. Just like a typewriter where each key pressed seems to bounce back up at you… Well that's exactly what a mechanical keyboard feels like too.
Gamers enjoy this kind of keyboard because it gives them a feeling of assurance that their commands are being executed exactly. Each key also requires less force to actuate (45-50g) for blazing fast in-game responsiveness.  (PS. Not a gamer? No worries, it's just as enjoyable to type on as well!)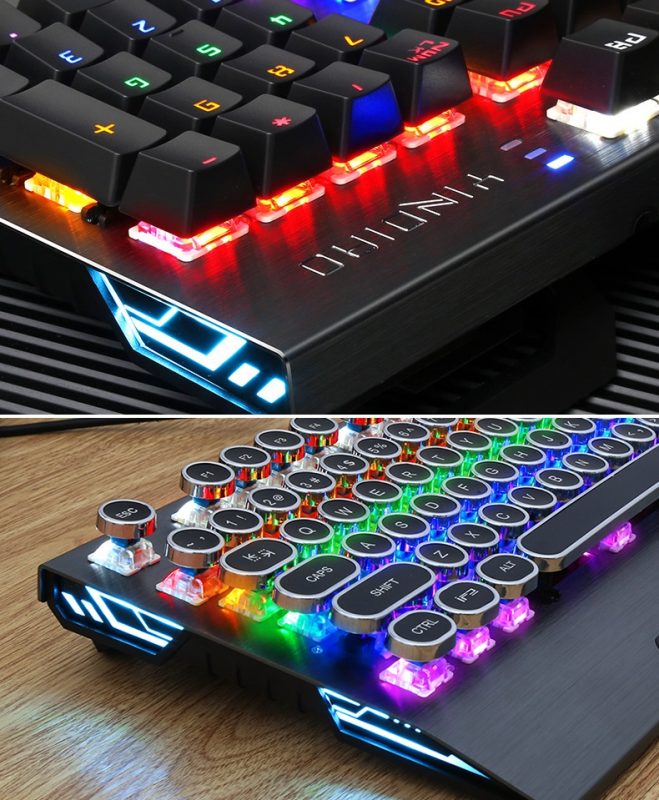 Impressive RGB Backlighting
Enjoy the Retro-Z's spectacular RGB backlight effects right upon plugging it in. Control and easily switch the backlight settings on the fly with this keyboard's convenient shortcut keys.
Adjust:
 Brightness/Speed
RGB Color Modes
RGB Lights On/Off
Create your own Color Combos
70M LONG-LASTING SWITCHES:

Our Typewriter Mechanical gaming switches have a 70-million-click lifetime ensuring they stay quick & responsive.
Dust resistance – Unique Key socket design prevents dust and liquid from entering the key switches.
PRODUCTIVITY BOOSTER 
Shortcut & hotkeys – easy access to productivity, internet and multimedia functions.